Rawlie the Coonhound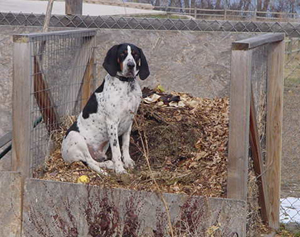 Rawlie was found stray in Rawlins Wyoming in 2004 and his owners could not be found. Loretta and Kevin adopted him and attempted to figure out what kind of a coonhound he might be. The best they have come up with is part Treeing Walker Hound and part Bluetick Coonhound. He is a great dog with a great bay...no bark...just a bay...very loud. In this picture he is in the compost pile where he likes to sit and if you look close you can see an apple at his feet. He likes to keep the apple close by, but he does not eat or damage it...it is his friend.
Coda the Agility Dog
Coda was adopted from Cheyenne Animal Shelter in 2007 at the impressionable age of 18 months. According to the folks that reliquished her she is a border collie hound mix but the genetic test says she is hound/retriever/spaniel...who knows...she actually looks a lot like an Entlebucher, the smallest of the Swiss Mountain dog family. Loretta and Coda began to learn dog agility together in 2009 and are now beginning to earn agility titles. Check out their first trial and a recent trial to appreciate how far they have come.